The following work was made to tell the story of transition. How a transition from one ideology to another could impact its citizens, especially constituents who were building for years on one ideology were having extreme difficulties in adapting to smoothly move into another ideology. These transitional periods are messy. Many dubious businessman, with titles like equity managers or risk capital investors, are suddenly appearing and can generate huge amounts of money in a very short period. Mostly the deals are based on destruction and selling of parts of assets rather than constructively rebuilding sustainable practices like factories and production facilities. In the process many deals are made with shareholders who are forced to sell, if they like to see some return of their long term investments. In Yugoslavia, the workers of companies were not being able to get full payment by the end of the glorious period of Yugoslavia and were sometimes offered shares as compensation. Also there were regulation that workers could accumulate shares, while they were working, and being offered shares as compensation for years of loyalty to one company. These workers had no other choice then to sell their shares for a small percentage of the value, mostly to Serbian criminal networks, who were thus obtaining big factories for very little money. They were making deals with obscure western companies who bought all or parts of the assets, which were further broken down and sold. Everybody in the process was making money with this process of destruction. The protagonist of the story Jovan, was one of the former inventor engineers from a major state company. He was in the end of the company's existence, forced to make such a deal, to get at least some return. With this money, he could set up a small company to generate some income, which could be considered his pension. Jovan was living through 3 different periods with their own specific ideology. Each period was ended by a war or a period of destruction. Being proactive, adaptable and flexible enough to move from one system to another is not easy and only some people managed to do this. The majority of an older population were having significant difficulties and were falling in the new system in extreme poverty. Only the younger generations were able to grow easily into the new system, connected to an other ideology.
The artwork is providing a glimpse in the mechanisms of dreams as they were dreamt-up by these young generations, who builded a society and after a certain period saw the collapse of that society. Their dreams were shattered and consequently their ambition to work on a society became a story of disillusion and survival in a new system. The work consists of a rectangular block of resin polyester, cracked. A projection of Jovan and two friends. who share a similar history. The photo was taken when they were young, when they started to work in company in a country who just adapted a new ideology. They were full of passion and dreams. When looking at the rectangular shape, the projection only shows up when seen perpendicular with the viewer. When the angle of looking at the object is changing the projection disappears, like memories disappear and fade in time. The story is been written with white paint on the ground in front of the object. It resembles a grave. Burying dreams and ideologies. This grave becomes a monument to honor these pioneers of forgotten times, and to remember the young and motivated workers of today, who building a new ideology themselves, which one day might end and shift into something else.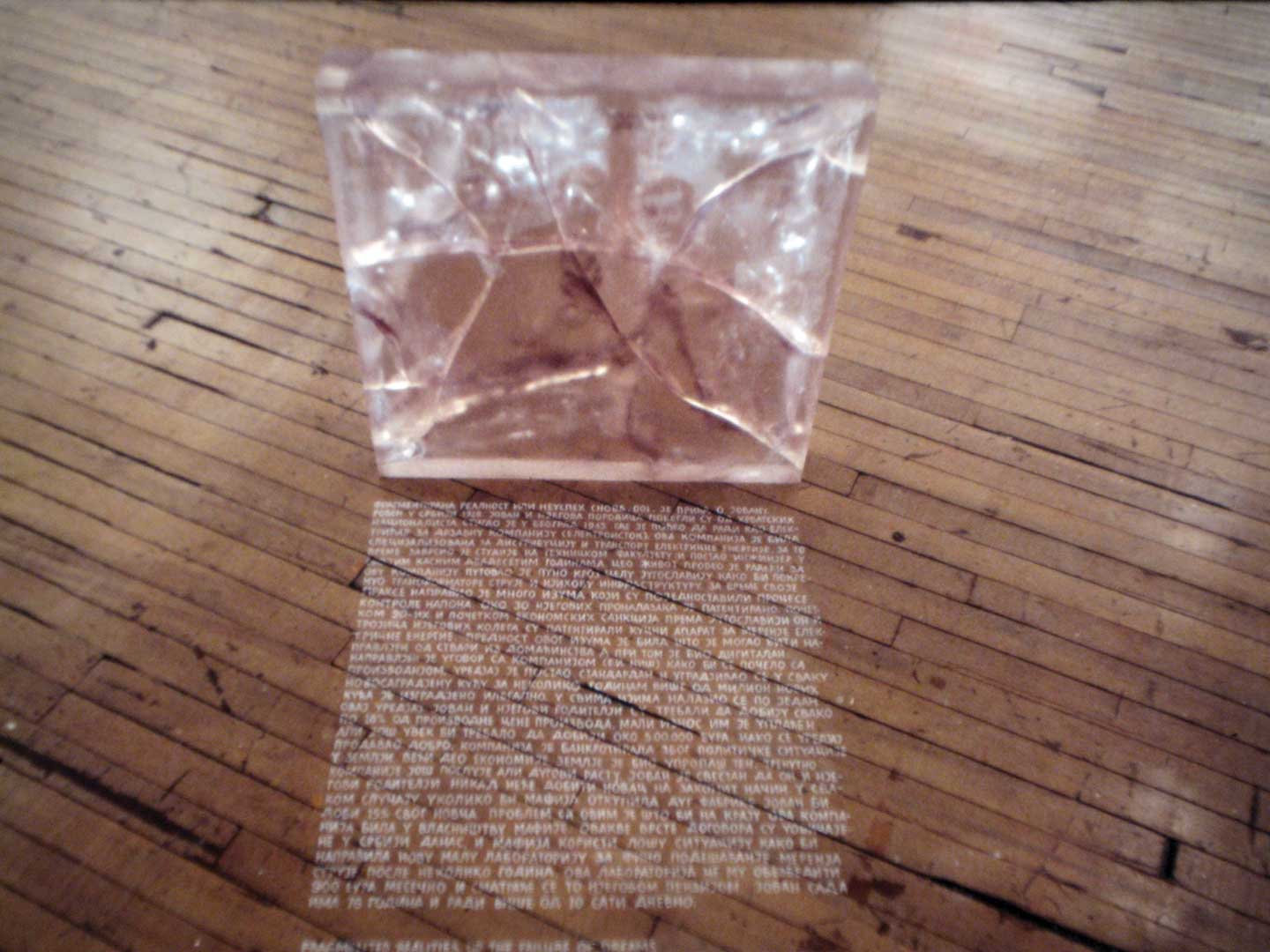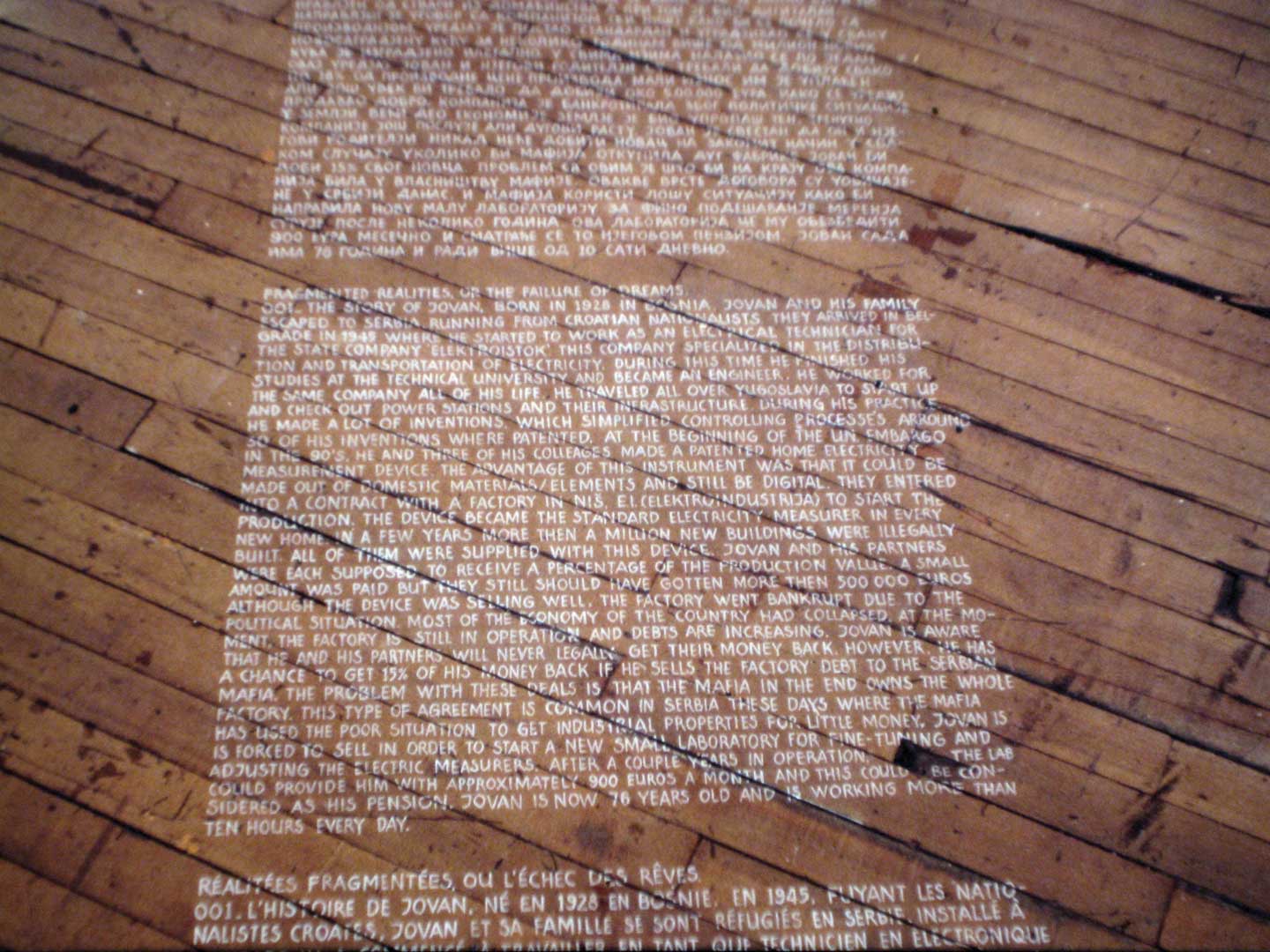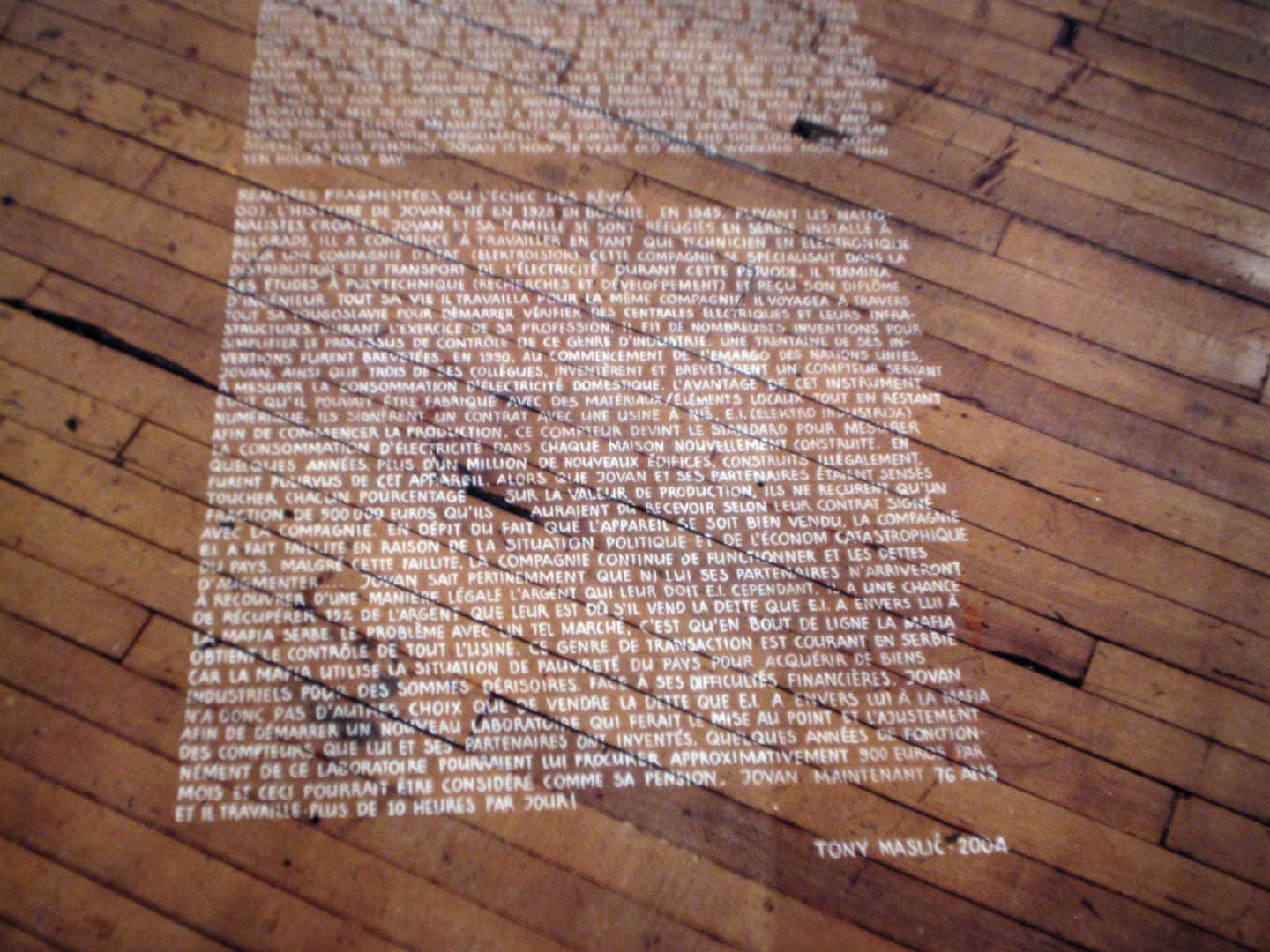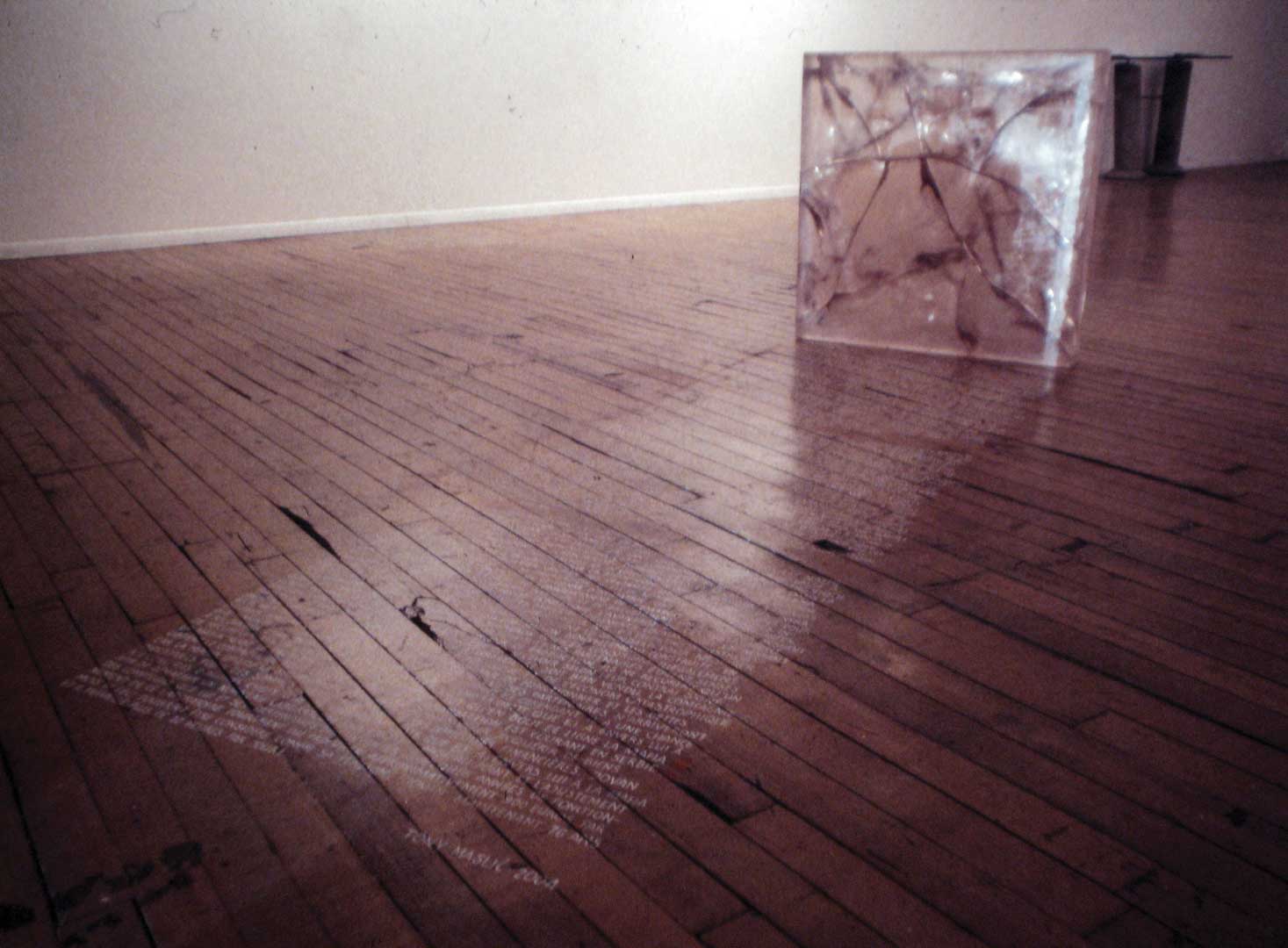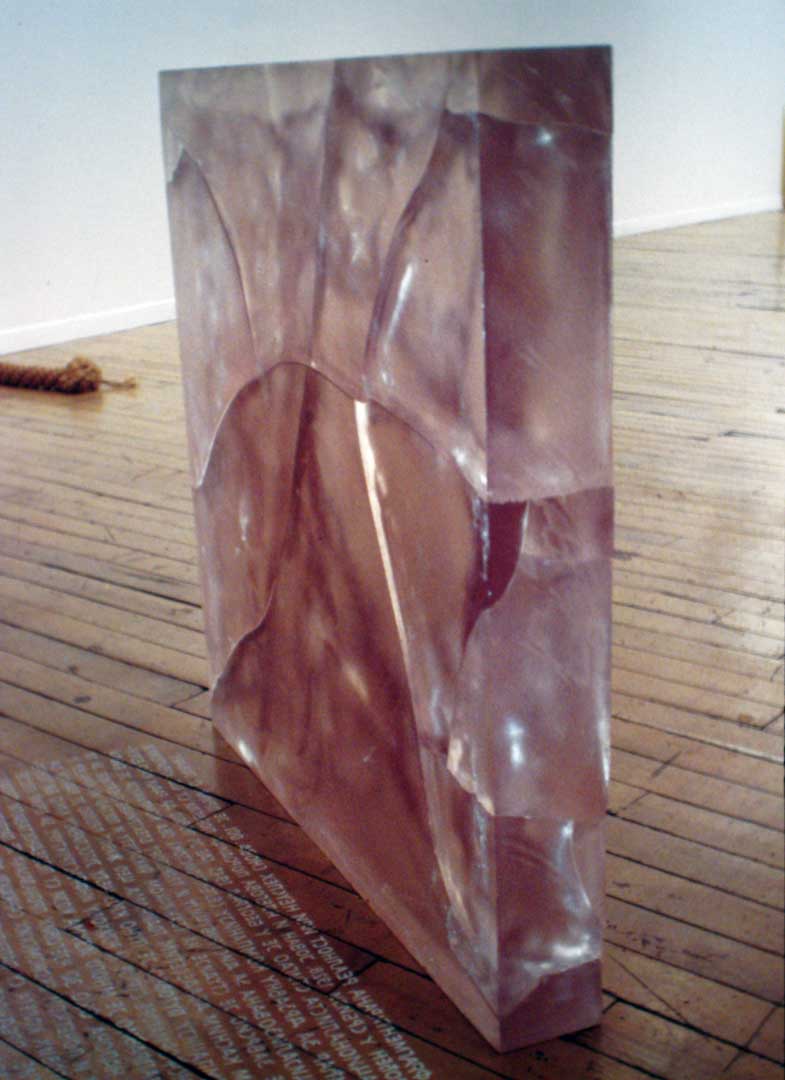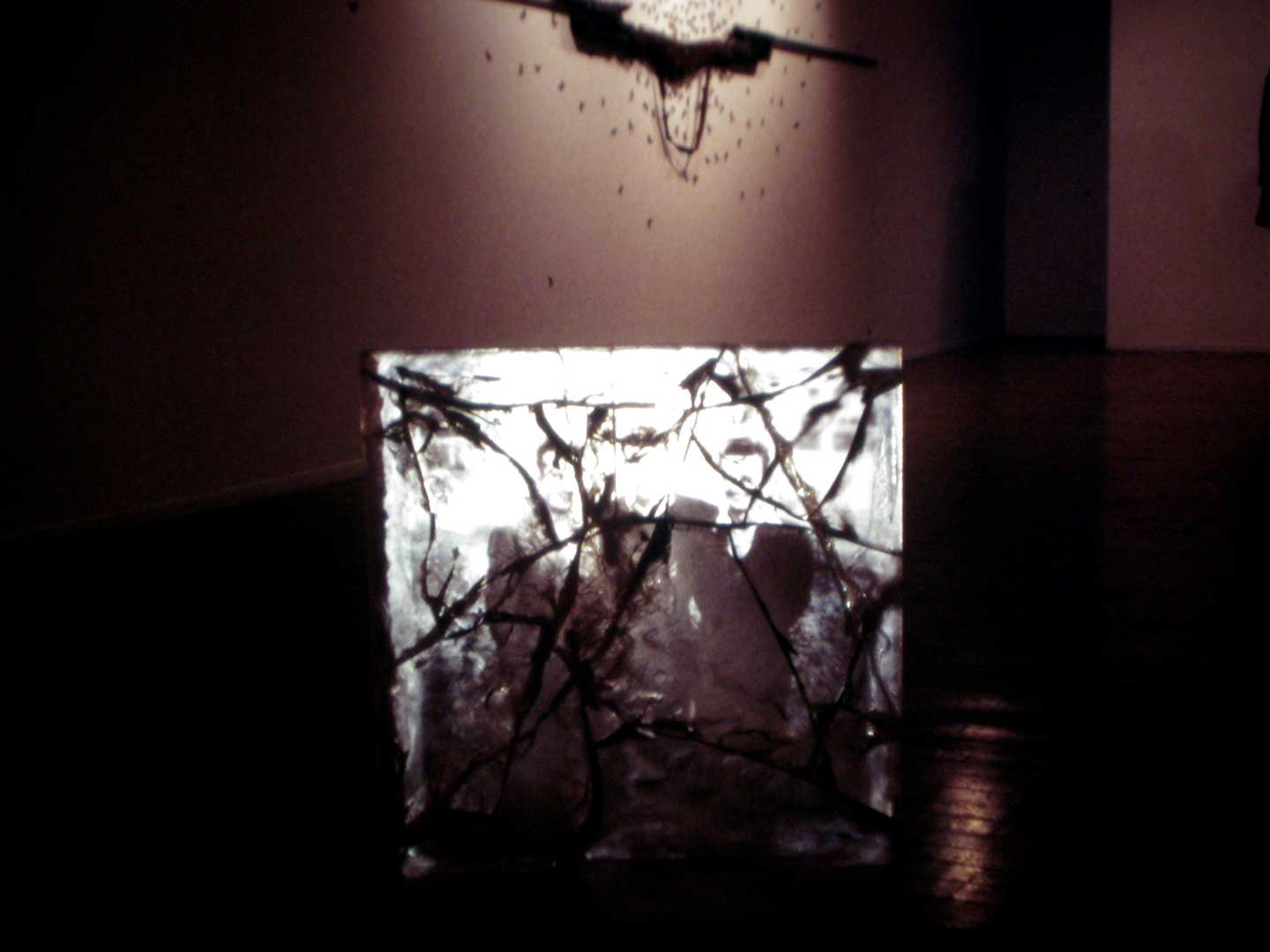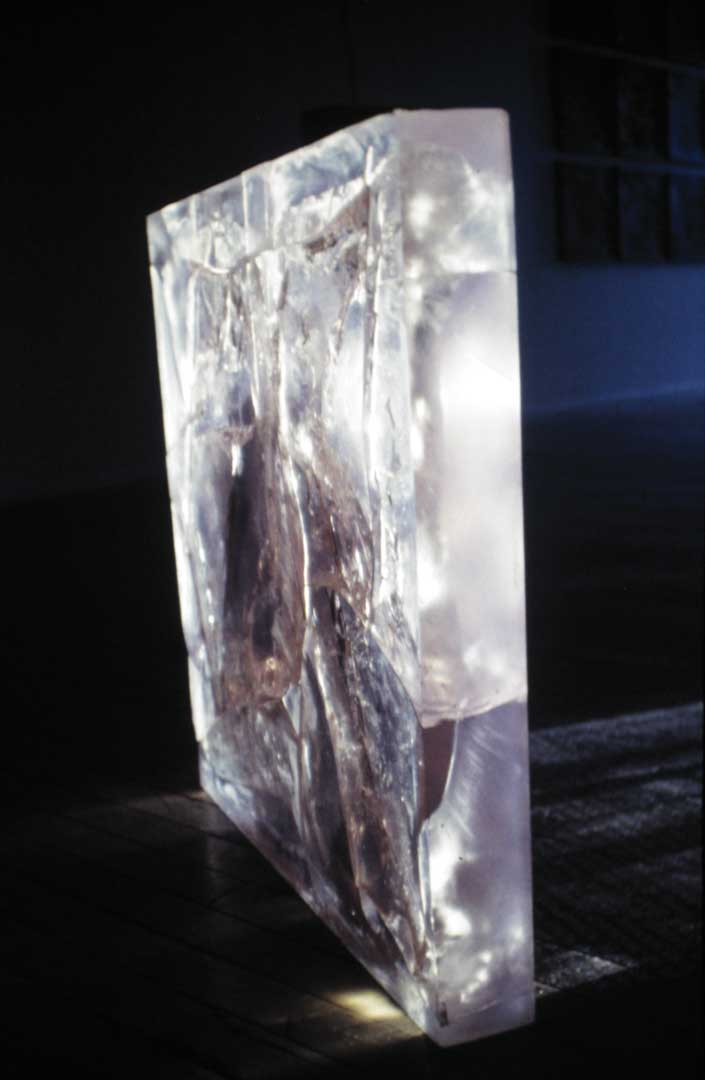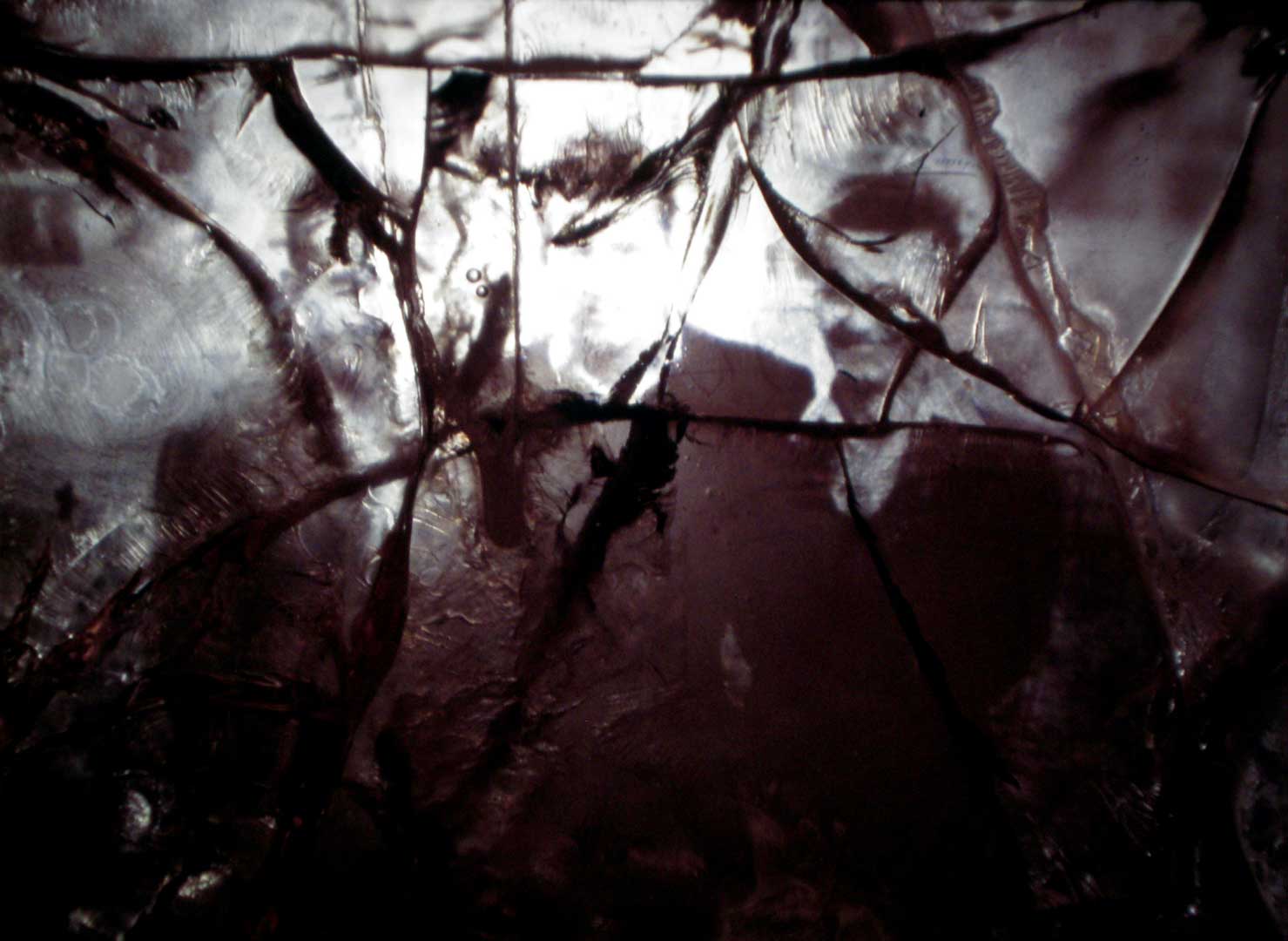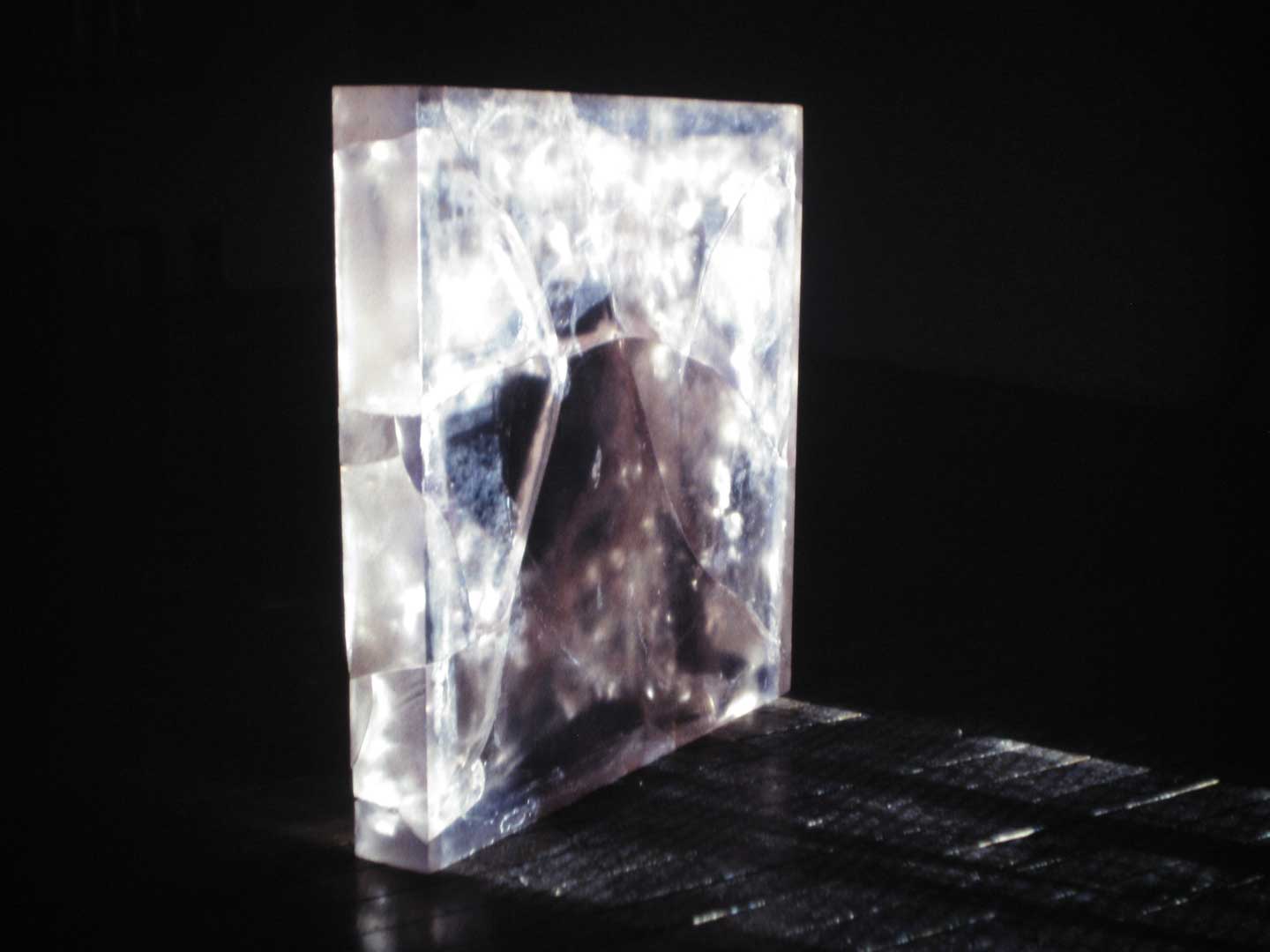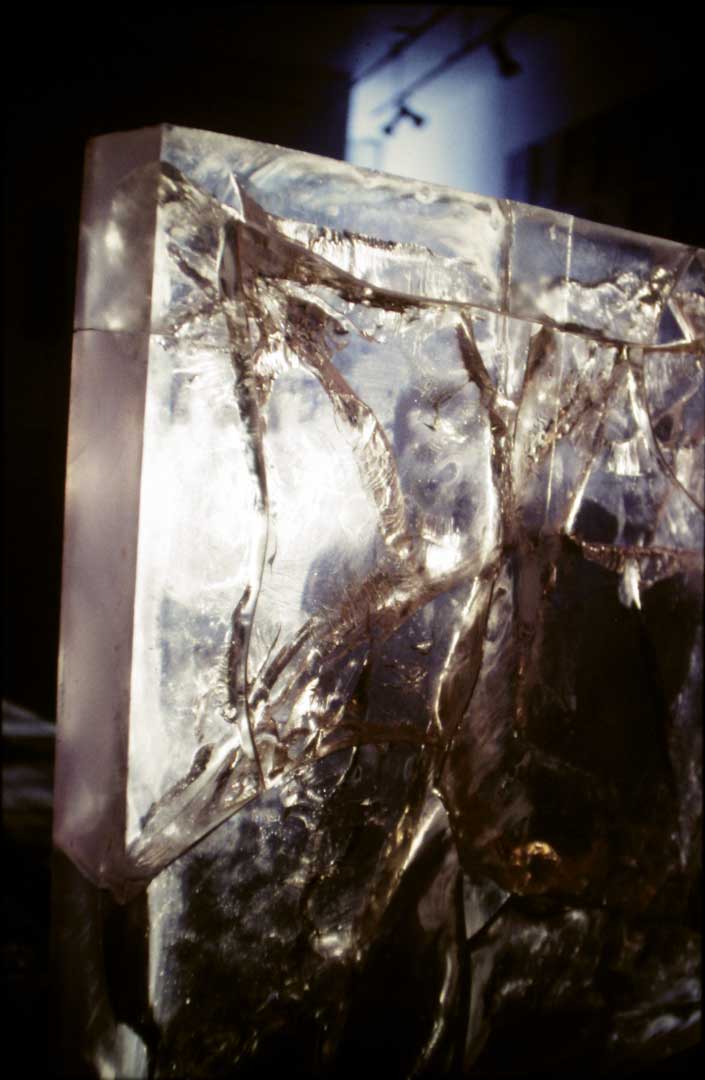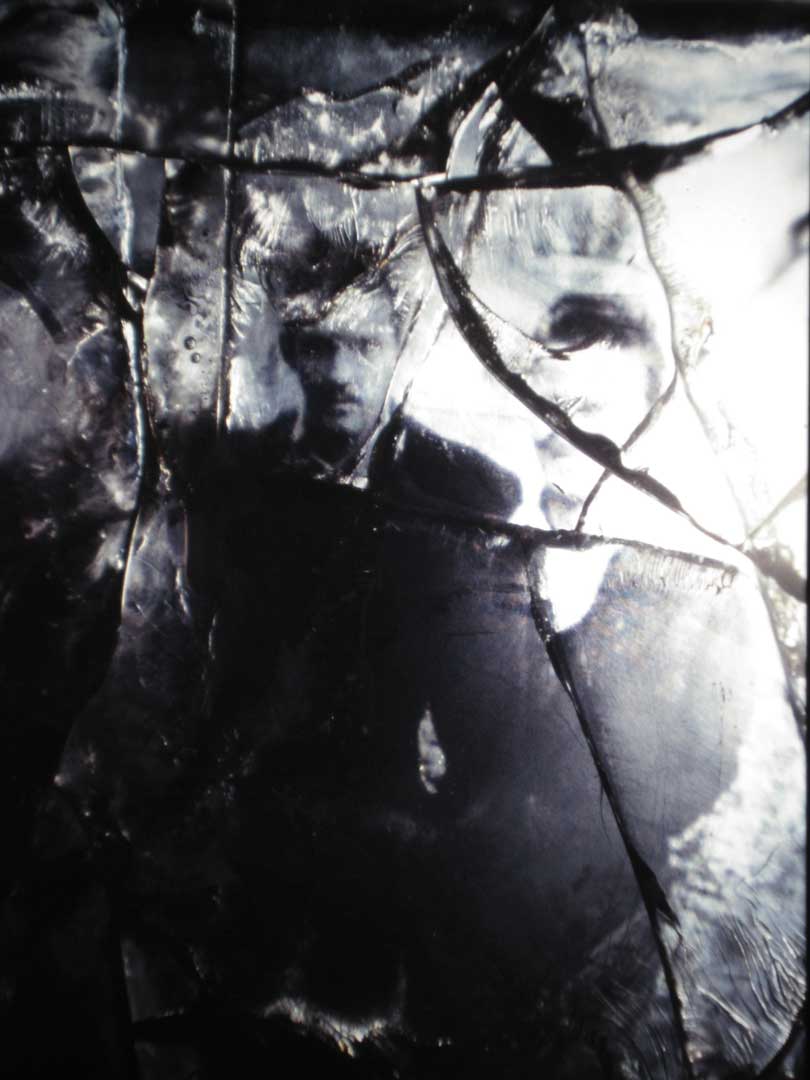 The following text as it was written in respectively 2 in the Toronto exhibition and 3 translations in the Montreal exhibition in front of the rectangular resin block. It was exhibited in A-space Gallery in Toronto, Canada and Observastoire 4 in Montreal, Canada
001_The story of Jovan,
Born in 1928 in Bosnia
He and his family escaped to Serbia, running from Croatian nationalists,
He arrived in Belgrade in 1945 where he started to work as an electro technician for a state company (Elektroistok). This company is specialized in distribution and transportation of electricity. During this time he finished his studies at the technical university and became an engineer in his late twenties.
All his life he was working for the same company. He traveled all over Yugoslavia too start up- and check out power stations and their infra structure. During his practice he made a lot of inventions, which simplified controlling processes. Around 30 of his inventions were patented. In the beginning of the U.N. embargo in the 90's, he and 3 of his colleagues made a patented home electricity measurement device. The advantage of this instrument was that it could be made out of domestic materials/elements and still be digital. They made a contract with a factory in Nis, E.I. (Elektro Industrija) to start the production. The device became the standard electricity measurer in every new built house. In a few years more then a million new buildings were illegally built. All of them were supplied with this device. Jovan and his partners were supposed to receive each 1 percentage over the production value. A small amount was paid but still they should have gotten more then 500.000 euros. Although the device was selling well, the factory got bankrupt due to the political situation. Most of the economy of the country was collapsed. At the moment the factory still works and debts are increasing. Jovan is aware that he and his partners will never get their money on a legal way back. However he have a chance to get 15% of his money back if he sells the factory debt to the Serbian mafia. The problem with these deals is that the mafia in the ends owns the whole factory. This type of agreement is common in Serbia these days, where the Serbian mafia has used the poor situation to get industrial properties for little money. Jovan is forced to sell in order to start a new small laboratory for fine-tuning and adjusting the electric measurers. After a couple of years when this lab has been functioning it could provide him with approximately 900 euro monthly and this could be considered as his pension. Jovan is now 76 years old and is working more then 10 hours every day.
As told by Ivan Kucina
Tony Maslic, 2004